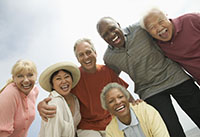 Signed into law in 1965, the Older Americans Act (OAA) is considered a primary vehicle for organizing, coordinating, and delivering community based services and supports that help older adults maintain their dignity and independence.
Through programs such as home delivered and congregate meals, transportation services, caregiver assistance, employment opportunities, and elder abuse prevention, the OAA enables millions of older adults to stay healthy and in their homes and communities, where they prefer to be, for longer than they might otherwise be able.
In addition to responding to the needs and preferences of seniors, the OAA is also cost effective. By helping older adults to age in place, OAA programs can prevent or delay the need for more costly institutional care, which translates into taxpayer savings and generates efficiencies in our nation's health care system.
Funding
Despite the successes of the OAA, its funding has not kept pace with population or inflation growth for decades. When the OAA was first enacted, people age 60+ represented just 13 percent of the population. Today, one in six Americans, or nearly 60 million, is an older adult. By 2030, a staggering 25 percent of Americans will be age 60+.
As a result of this growing population amid shrinking dollars, current funding levels are inadequate to meet this increased need. In 2010, 57.5 million individuals were eligible for OAA services, but only 11 million were served.
With the senior population projected to grow exponentially in the coming years, so too will the demand on OAA programs. Absent a strong, immediate investment in the OAA, millions of older adults stand to lose the critical services they need to stay healthy and independent.
Reauthorization
ADvancing States believes the OAA works well and is fundamentally sound. However, we acknowledge the Act could be improved to better serve current and future seniors and their families, and to reflect our nation's evolving demographic and economic realities. The OAA, and its reauthorization, enjoy a long history of bipartisan, bicameral support. ADvancing States remains committed to such a process in the current Congress.