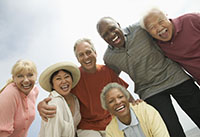 In 2016, Congress passed a three year authorization of the Older Americans Act, which expires on September 30th, 2019. In August 2018, NASUAD released its OAA reauthorization priorities, which are available here.
In 2019, the House and Senate each hosted hearings to discuss the OAA and to learn more about different policy options for reauthorization. Information about the Senate hearing is available here, and the House hearing is available here.
On June 5th, the Senate HELP Committee, which has jurisdiction over the OAA in the Senate, released a bill draft of its proposal to reauthorize the Act. ADvancing States' analysis of the legislation is available here. On June 14th, ADvancing States provided comments on the legislation to the HELP Committee. Click here to access these comments online.
On Monday, September 16th, 2019, the House introduced its OAA reauthorization proposal. On Wednesday, September 18th, the Education and Labor Committee, which has jurisdiction over the OAA in the House, amended and advanced the legislation with a recommendation that the full House pass the bill. The House has not yet passed the bill and no definitive timeline has been set for consideration.
On September 23rd, ADvancing States sent a comment letter to House leadership regarding the bill. Click here to read the letter. You can also view our section-by-section analysis of the bill here.