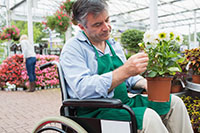 The Workforce Investment Act of 1998 (WIA) succeeded the Job Training Partnership Act (JTPA) as the main federal workforce development legislation. Designed to facilitate increased coordination among federal workforce development and related programs, WIA authorizes several job training programs, including Youth, Adult, and Dislocated Worker Activities, Job Corps, the Native American Program, the Migrant and Seasonal Farmworker Program, and the Veterans' Workforce Investment Program.
Title IV of WIA, the Rehabilitation Act Amendments of 1998, amended the Rehabilitation Act of 1973 and authorized appropriations for its programs. Most programs under the Rehabilitation Act are related to the employment and independent living of individuals with disabilities and are administered through the Department of Education's Rehabilitation Services Administration (RSA). Several related independent agencies are also authorized by the Rehab Act.
Authorization for appropriations under WIA expired in FY03, but funding has been extended annually through the Departments of Labor, Health and Human Services, and Education and related Agencies Appropriations Act (Labor-HHS). Reauthorization legislation was considered in the 108th, 109th, and 112th Congresses. In the 113th, the House passed legislation reauthorizing WIA.
Current Law