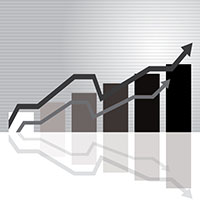 "You've got to think about the 'big things' while doing small things so that all the small things go in the right direction."
— Alvin Toffler
Performance measures are tools to assess how well a state agency is meeting the Plan's goals, as well as progress toward realizing the vision set forth in the Plan. There are several different categories of performance measures: Outcome; Output; Impact; Input.
The following are definitions of performance measures as used in the Government Performance Results Act of 1993:
Outcome measure GPRA Definition: An assessment of the results of a program compared to its intended purpose.
Output measure GPRA Definition: A tabulation, calculation, or recording of activity or effort that can be expressed in a quantitative or qualitative manner.
Impact measure GPRA Definition: A measure of the direct or indirect effect or consequence resulting from achieving program goals.
Input measure GPRA Definition: A measure of the resources used to achieve an outcome (e.g., employees, funding, etc.)
Critical Questions
Are needed data currently being collected to measure the results of activities set forth in the Plan?
What new data will need to be collected?
How will the new data be collected?
What needs to happen in order to collect the needed data (e.g., changes in software, new reporting requirements)?
Is the benefit of the new data sufficient to justify added expenditures and reporting requirements?
Key Considerations
Developing reliable and valid performance measures is critical to documenting the success of the Aging Network.
Documenting success is essential to receive increased federal, state, and local funds.
Communicating performance information to the public demonstrates the Aging Network is accountable and responsible.
Performance measurement supports Quality Improvement efforts.
Consider procedures as outlined by ACL.
Performance Measures should reflect the state's aligment with ACL's five pillars: supporting families and caregivers, protecting rights and preventing abuse, connecting people to resources, expanding employment opportunities, and strengthening the aging and disability networks.
Who Participates?
For the measures to meet the varied needs for information, a variety of people should be involved in the various development stages of performance measures. Examples may include:
Citizens to inform the development of desired outcomes to benefit consumers and the performance information needed by citizens to understand the work and accomplishments of the agency.
The Administration on Aging and other key federal agencies to inform the development of measures that support federal strategic plans.
The Governor's Office and State Legislature to identify accomplishments for management decision making and communications to the Governor and the legislators.
Program administrators to inform the development of consumer outcomes, service performance, provider agency performance, and service quality.
Planners and program developers to identify measures useful for program development and planning for the future.
Federal and State Requirements
Under GPRA every federal agency is required to develop performance measures. The Office of Management and Budget (OMB) assesses each agency program using the Program Assessment Rating Tool (PART). The PART was developed to assess and improve program performance so that the federal government can achieve better results. A PART review helps identify a program's strengths and weaknesses to inform funding and management decisions aimed at making the program more effective. The PART, therefore, looks at all the factors that affect and reflect program performance, including:
Program purpose and design
Performance measurement, evaluations, and strategic planning
Program management
Results
Key Decision Points