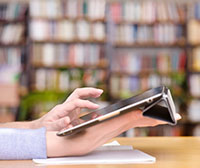 See below for I&R/A news and updates.
New Survey Report Highlights Changing Nature of I&R/A Programs
ADvancing States is pleased to publish findings from the 2018 national survey of aging and disability Information and Referral/Assistance (I&R/A) agencies. ADvancing States' National Information and Referral Support Center, in partnership with the National Council on Independent Living (NCIL), conducted this comprehensive survey to assess the current landscape of I&R/A programs, including opportunities, challenges, developments, and trends. Findings are available in the report Complex Needs and Growing Roles: The Changing Nature of Information and Referral/Assistance. The report shares information on a range of issues – including services and referrals, technology and social media, partnerships and systems, quality assurance, training and certification, and sustainability – from the perspectives of I&R/A professionals in state agencies on aging and disability, Area Agencies on Aging, Centers for Independent Living, Aging and Disability Resource Centers, No Wrong Door systems, and other non-profit human service organizations. Key themes to emerge from the survey data are:
Theme 1: Funding and Sustainability Remain Significant Concerns for I&R/A Agencies;
Theme 2: I&R/A Professionals are Serving More Individuals with Multiple and Complex Needs;
Theme 3: The Roles of I&R/A Professionals Continue to Expand;
Theme 4: The No Wrong Door (NWD) Model is Playing a Growing Role in Consumer Access to Information and Services;
Theme 5: Changing Expectations for Effective Service Delivery Support a Focus on Training and Quality Assurance; and
Theme 6: Diverse Modes of Consumer Access to Information and Assistance are Emerging in I&R/A Practice.
Survey findings underscore that, while connecting people to services remains the core mission of I&R/A programs, many programs are addressing increasingly complex needs among the individuals they serve. In this environment, I&R/A professionals are often called upon to bring enhanced skills and roles to their work, as agencies are called upon to build and sustain their capacity to meet growing needs.
Click here to access the report.
AIRS Certification Program: New Names for Changing Times
In January 2019, the Alliance of Information and Referral Systems (AIRS) announced new names for the credentials that comprise its certification program. Certification is a measurement of documented knowledge in the field of I&R reflecting specific competencies and related performance criteria, which describe the knowledge, skills, attitudes and work-related behaviors needed by I&R practitioners to successfully execute their responsibilities. The AIRS Certification Commission engaged in a consultative process with AIRS membership, certification holders, and national partners over the past year with the intent to develop new names for AIRS credentials. These changes are primarily intended to raise the status of the profession with stakeholders/funders; and to acknowledge the significant changes within the work performed within agencies engaged in helping individuals and families to find and secure the services needed to help them. The AIRS credential designed for aging and disability professionals, previously the Certified Information & Referral Specialist for Aging/Disabilities (CIRS-A/D), is now the Community Resource Specialist - Aging/Disabilities (CRS-A/D). All AIRS credentials now share the common stem of Community Resource Specialist. In addition to the CRS-A/D, Community Resource Specialist (CRS) is the new name for a Certified Information and Referral Specialist, and Community Resource Specialist - Database Curator (CRS-DC) is the new name for a Certified Resource Specialist. For more information on AIRS certification, visit https://www.airs.org/i4a/pages/index.cfm?pageID=3309. For further information on the CRS-A/D, see our fact sheet.
AIRS I&R Training and Education Conference Materials Available Online
The 41st Annual AIRS I&R Training and Education Conference was held June 2 to 5, 2019, in Atlanta, Georgia. The Symposium offered a pre-conference National I&R/A Summit for aging and disability professionals, a full complement of conference workshops, and an Aging and Disability Luncheon. Conference workshops featured national, state and local professionals from across the country discussing initiatives and innovations in aging and disability I&R/A programs. ADvancing States has posted information about the pre-conference summit, the luncheon, and the aging and disability track workshops on its website.
Click here to view workshop descriptions and access materials including slide presentations and handouts.
Monthly Technical Assistance Webinars
Click here to view recent and upcoming I&R technical assistance webinars coordinated by the National I&R Support Center.